Series HR
Series HR is a heavy duty line of outrigger systems form BFBT with the power factor of 470 kNm.  It has a very strong frame and a solid structure with a high mechanical strength.
The strength and robustness of the device puts it in a category of outrigger systems designed for permanent use in very difficult conditions.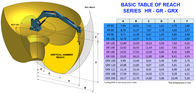 Suggested usage
Great stationary crusher with jaw crusher
Cone crusher
Large cone crusher
Details
HR rotary frame, boom and stick, rotation range of 330 °
Composition and operational advantages
Solid sturdy frame with anchoring to concrete base or steel base.
Boom and stick are special strength welded steel
All fasteners (bolts, bushings) are high-strength steel with heat treatment for longer life
Hydraulic distributor and its controls are from the same manufacturer - Sauer Danfoss
Hydraulic cylinders with high resistance for heavy-duty operating conditions
Hydraulic Hammer with appropriate recommended capacity and type according to the needs of the customer
Hydraulic unit with sufficient power for hydraulic hammer.