At the end of 2012, the first outrigger system of the new CK60 series with the AHC45 
hydraulic unit and the MB1000 hydraulic hammer was made and handed over. It is equipment with a performance coefficient of 230 kNm with the newly designed DPP - Direct Pressure Protection hydraulic system, which secures precise adherence to hydraulic parameters even in the heaviest conditions.


Basic parameters of the CK60 outrigger system:
Outrigger system weight without the hammer 5,850 kg
Outrigger length 3.3 m
Stick length 2.5 m
Working equipment slewing range 170°
Individual parts of the working equipment are shaped weldments of materials with guaranteed mechanical properties.
Swivel joints are made of quality, improved, and hardened materials with high abrasion resistance.
The materials used and the hydraulic cylinder design guarantee long service life even in the heaviest operating conditions.
Basic parameters of the AHC45 hydraulic unit: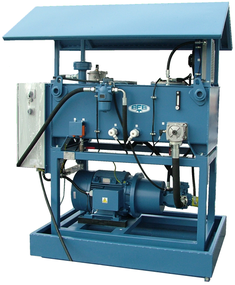 Unit weight 950 kg
Installed power 45 kW
Max. pressure 300 bar
Automatic oil cooling
Manual oil heating
Powerful oil filtering
Oil tank capacity 460 l